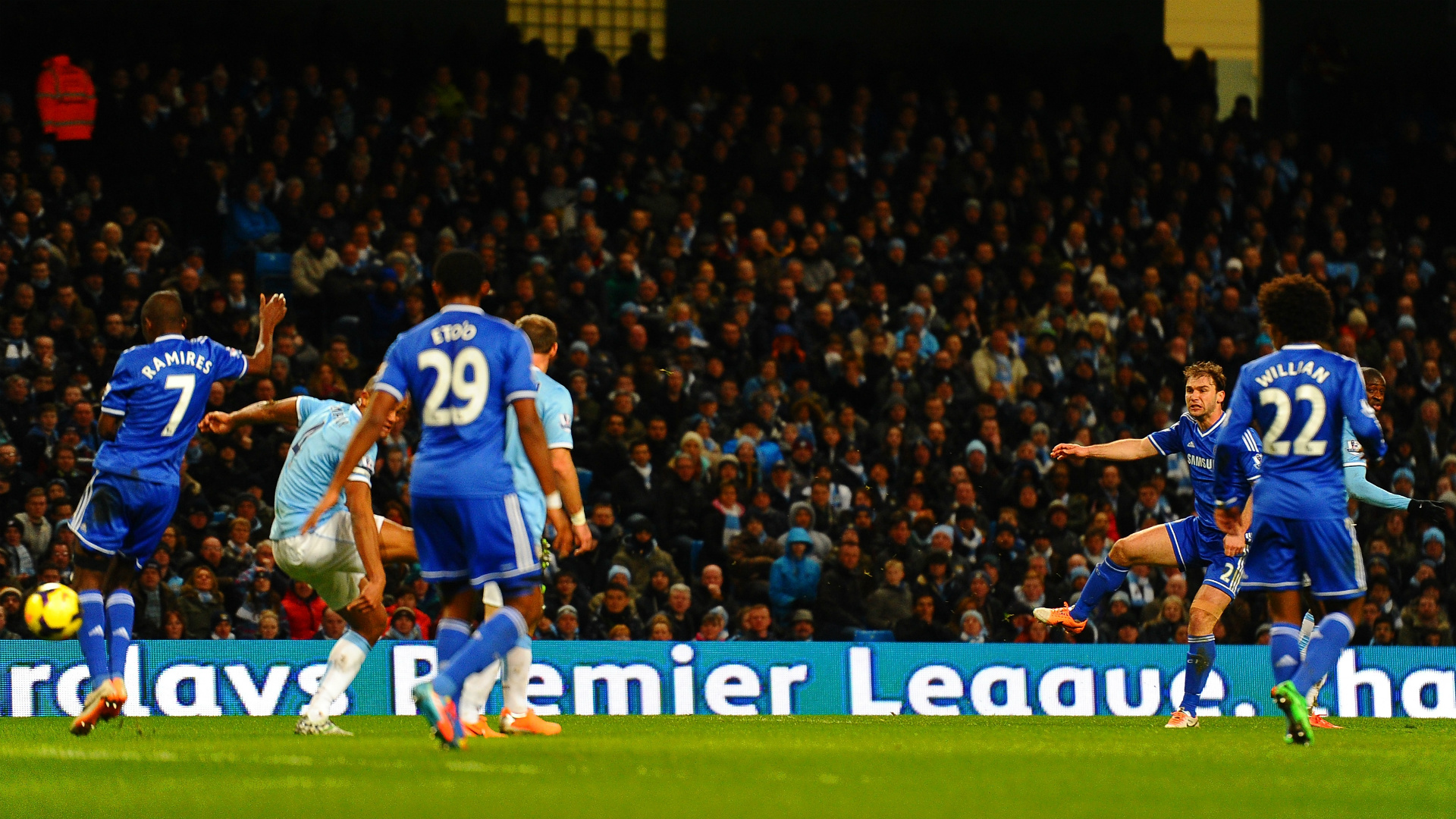 A stunning finish from Branislav Ivanovic helped Chelsea to a big 1-0 win over Manchester City at the Etihad Stadium and put them back into contention for the Premier League title.
It was an unlikely goalscorer but Ivanovic's half-volley thumped past Joe Hart to give the Blues an important three-point and move them joint-second with City in the table.
Mourinho's side also hit the woodwork three times throughout the game as the hosts failed to get any rhythm going due to Chelsea's good defensive work.
City started with Martin Demichelis in midfield instead of the injured Fernandinho, but it was his midfield partner Yaya Toure who was pulling the strings in the first twenty minutes. The Ivorian was his typical marauding self as he burst into the box and pulled the ball across, but David Silva could only poke wide from a great position to the relief of the Chelsea defence.
However, that chance proved to be a rare occasion for the home side as Chelsea's combative defence and swift counter-attack meant Mourinho had tactically beaten his Manuel Pellegrini in this game.
Alvaro Negredo's sloppy pass meant Willian could lead the break and find the run of Ramires, but the Brazilian's side-footed shot was a bit too close to Hart and the England goalkeeper made a comfortable save. Hart was helpless in the 32nd minute though as Chelsea battered their way into the lead.
It was Ramires again who was proving to be a threat to the City defence as his shot was originally blocked the back of Vincent Kompany, but the ball fell perfectly for the Serbian full-back. Ivanovic took the half-volley first time on his weaker left foot, but it didn't matter as the ball splintered past Hart into the bottom corner for a very important goal.
It should have been 2-0 before the break. Eden Hazard skinned past Pablo Zabaleta, leaving the Argentine in his dust before sliding the ball across the box but Samuel Eto'o was late on the scene and could only hit the crossbar with his off-balance effort.
The second half continued in the same pattern. City had most of the ball, but failed to create anything worthwhile while Chelsea looked dangerous every time they went forward. Nemanja Matic thundered a shot towards goal from an improbable 35 yards and with Hart well beaten, the ball smacked back off the post to a collective gasp from the Etihad Stadium.
The post was proving to be a lucky charm for City as it saved them from flling further behind again. Willian's corner was met by the towering header of Gary Cahill, but the woodwork stood firm and Chelsea were denied again.
In the end, the result was cut and dry. City couldn't offer any resistance and Chelsea took a big step into forcing their way back into the title race.